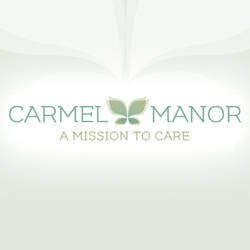 Licensed Practical Nurse - LPN
Fort Thomas, KY
Carmel Manor has completed our expansion and renovation and we need more staff to work in our brand new facilities! We are now looking to hire Licensed Practical Nurses (LPNs).

Under the direction of the Charge Nurse, assists in providing professional nursing care to residents as determined by qualifications and training.

• Graduation from an accredited nurse program with current licensure by Kentucky State Board of Nursing.
• Minimum 6 months experience in medical-surgical nursing preferred.
• Assume charge of unit in absence of Registered Nurse and performs administrative duties as listed on job description of Registered Nurse.
• Report observations of residents conditions to supervisor.
• Maintain adequate, accurate clinical records and complete required forms if resident is being transferred.
• Provide treatment using therapeutic equipment.
• Take temperature, pulse, respiration rate, blood pressure, and heart rate to detect deviations from normal.
• Record nursing needs of residents on nursing care plan to assure continuity of care.
• Provide clinical supervision of nursing assistants providing direct resident care.
• Counsel nurse aide and recommends disciplinary action, when necessary, to the Director of Nursing.
• Prepare nurse aide assignments and explain pertinent resident care.
• Notify physician, when necessary, of changes in residents conditions, weight, medication errors, medication not available, abnormal x-rays/laboratory results, and any other unusual observations.
• Participate in resident care conference as scheduled.
• Conduct resident rounds daily.
• Identify resident problems and emergency situations, and initiate immediate "life-saving" measures.
• Follow staffing guidelines and make assignments according to qualifications of staff and characteristics of resident population.
• Perform and document comprehensive assessment of resident.
• Follow facility discharge/transfer procedures and coordinate discharge/transfer with other departments, physicians, and ancillary service providers.
• Count narcotics, check emergency kit, and exchange keys with oncoming nurses.
• Provide report to oncoming nurse, including sufficient information for follow-up action if necessary.
• Identify hazards and initiate corrective action immediately.
• Assess resident needs and initiate development of individualized plans of resident care.
• Observe infection control procedures.
• Participate in the employee evaluation process of nursing assistants.
• Supervise and evaluate all direct resident care and initiate corrective action as necessary.
• Requisition supplies, equipment, and linens to meet unit needs.
• Notify supervisor when resident's condition changes or resident becomes critically ill.
• Continue professional growth through in-service meetings, current literature, institutes, and workshops.
• Advise nursing survivor of Director of Nursing of topics for discussion at staff meetings.
• Support and participate in facility Quality Assurance program.
• Verbal and written communication skills necessary to understand instructions and to communicate with residents and staff. (English language required.)
• On a typical work day you will be standing, walking, lifting, and transferring residents, carts, wheelchairs, and equipment. You will also be reaching and handling equipment, as well as stooping and bending while administering care.

About us:
Our intent is to provide residents with high quality care and to staff Carmel Manor with qualified, productive employees. Our belief is the quality of operation can be maintained by the combination of religious and lay persons committed to the goals of the Christian Community. In providing Compassionate Care, the Carmelite Sisters and all those persons complementing their ministry are accountable to strive for excellence in performance and adherence to professional and regulatory standards.

Click "Apply now" for immediate consideration!

We are an Equal Opportunity Employer.

16604